Are you worried on how to develop complex web applications using open source PHP? Here is the answer – Symfony PHP framework is a perfect solution for developing comprehensive & complex web applications and web solutions since it has components and ready-to-use modules for real life features like blogs, nested sets or user management, search & workflow engine. Therefore, a Symfony PHP framework is very popular among the community.
Do you get tired of managing your office tasks manually? Here is a helping hand for you- Symfony, a fusion of an open source PHP web application framework. Developed specifically to simplify and effectively manage almost all official tasks in your intranet, it can perform daily document processing work without any obstacles. For businesses, it has proved itself very user-friendly and a productive tool.
It is fast and highly favors performance. For developing a complex web application, Symfony can offer you the best because of its numerous functionalities & ready modules and plug-ins. It helps in clean creation and maintenance of web applications. The "bundle" of Symfony is expandable and changeable. Stable and sustainable, it not only makes the world easy for developers, but also for online business professionals. Flexibility is the best feature that makes it a good option for developing social networking websites. A beginner can get its hand on Symfony quickly and easily since it features ample of documentation, community and professional support, and "embedded" best practices within the framework.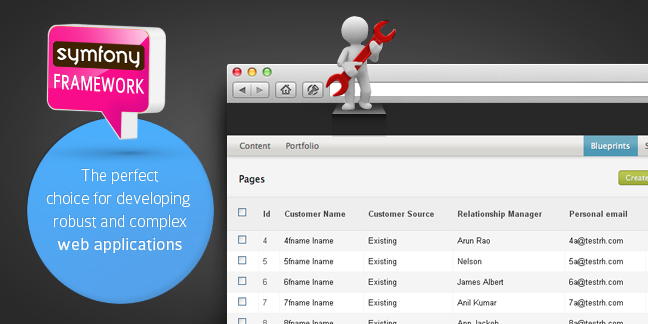 Hire Symfony Developers from Arokia IT-
• Our expert team of developers can easily customize, extend and modify it according to your business needs.
• Render superior services.
• Target-Oriented Team.
• Instant and two-way Communication.
• Flexibility in project dealings.
• Less time-consuming in development process.
• Cost Effective Projects.
• Continuous Assistance and Support to the clients.
Arokia IT offers with most efficient and customized solutions to suit the exact business requirements of their worldwide clients on Symfony framework. There are no hidden costs involved. The team of professional programmers at Arokia IT is constantly striving to develop interactive and feature rich web applications using the Symfony framework.
At Arokia IT we have experience from consulting to building large scale web applications for customers worldwide. Some of our experience has been in developing symfony based web applications for the following business.
1. Office Intranet software managing back office & operational tasks
2. Inventory & distribution management software
3. Customized CRM software
4. Complex web application built on SOA
5. Social Networking & Complex Ecommerce websites
In short, Symfony is preferred by a lot of developers because of its nature for effortlessly creating sophisticated, maintainable, extendable and scalable web applications using the most efficient PHP language. It is a technological tool for coding high-end web development services.
A completely flexible solution- Symfony PHP framework can come to you through Arokia IT. Feel free to contact us anytime.